Upcoming IC events on Ireland, China, Chile, Cuba, Pakistan, and Palestine!
We encourage you to join DSA's International Committee at these important upcoming events on Ireland (9/19), China (9/20), Chile (9/21), Cuba (9/30), Pakistan (10/3), and Palestine (9/19+9/25)! Plus, remember to watch the recording of our call on Afghanistan.
---
Apply to join International Committee leadership — Deadline Wednesday 3/31
Interested in Internationalism? Apply to join DSA International Committee (IC) leadership!
The IC's mission is to help DSA and its membership to connect in solidarity with like-minded activists, workers, movements, and parties worldwide. Within DSA, we hope to contribute to international political education and to support the growth of international solidarity work in local chapters across the country. We also aim to support national campaigns for international justice and to help provide a network for members across the country.
We are seeking applicants for the new IC leadership term starting in June 2021. The application deadline is Wednesday, 3/31. We invite interested DSA members to apply for leadership positions including IC Secretariat, Steering Committee, and Subcommittee Co-chairs.
We aim to have a diverse IC leadership composition and strongly encourage women, Black, Indigenous and People of Color (BIPOC), and members from a wide geographic range to apply.
Please join us in a solidarity that knows no borders.
---
Who are the Democratic Socialists of America?
Interview with DSA member Annie Levin
Trump and Biden, the anti-racist struggles, the pandemic, Bernie Sanders and the parliamentary experience of the socialists Alexandria Ocasio-Cortez and Rashida Tlaib, anti-imperialism, anti-fascism, and internationalism from the point of view of the U.S. democratic socialists
By Alessio Arena
Translated by the author. Reprinted with permission from the Italian original in La Città Futura.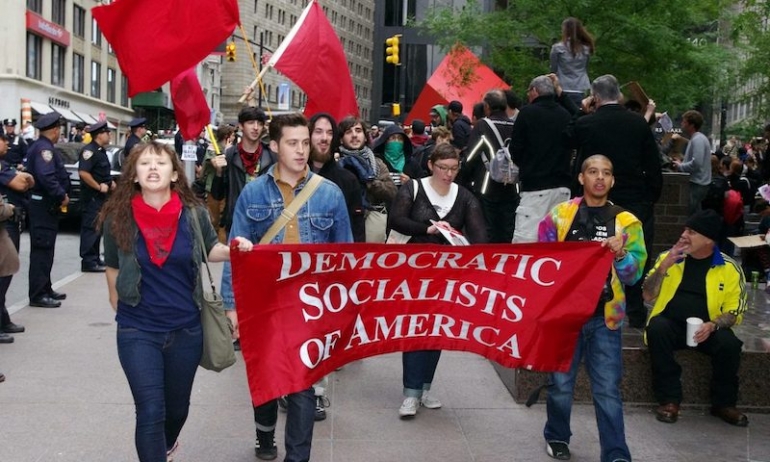 The crisis that has been affecting the United States for over a decade now is visibly transforming the relationship of Americans with political participation. During the last decade, the 50 states have been crossed by an uninterrupted series of mass movements and conflictual explosions. A new generation of activists has imposed itself as a factor of renewal with which even the ruling classes of the main imperialist power are now forced to reckon.
The left political force that has been most able to intercept the growing desire for radical change in American society is undoubtedly the Democratic Socialists of America (DSA). The DSA is an organization of the socialist and anti-capitalist left whose ranks include interpreters of practically all the historical trends in which the Marxist galaxy is articulated, but above all many young people whose commitment is gradually giving shape to an original profile of American democratic socialism.